AAALAC Internationalis a private, nonprofit organization that promotes the humane treatment of animals in science through voluntary accreditation and assessment programs. AAALAC International stands for the "Association for Assessment and Accreditation of Laboratory Animal Care International."
More than 770 companies, universities, hospitals, government agencies and other research institutions in 29 countries have earned AAALAC accreditation, demonstrating their commitment to responsible animal care and use. Biotoxtech Co., Ltd. achieved AAALAC International Full Accreditation in February, 2008 and is pulling out all the efforts to keep animal welfare comply with guidelines.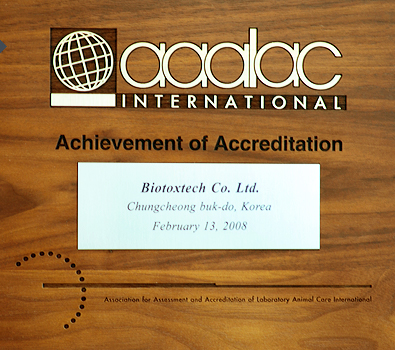 AAALAC International Full Accreditation
The AAALAC International offers international certification about management and use of animals. Many organizations In dozens of countries around the world art already certified AAALAC International and it is a hallmark of excellence.
Authentification of the AAALAC International demonstrates scientific reliability, as well as show and tell you to satisfy International standards.
Application of AAALAC International
AAALAC International is managed by board of trustees being made up of experts in science and education organs.
They accredit one of the member of board of trustees to the AAALAC board.
Animal management and use which authenticated program by AAALAC International
28 country the animal management 700 or more and use programs acquired AAALAC International authentications. The authenticated organs are the educational institution, enterprise and the government authority, the hospital, are various with the nonprofit organization and bio technology/pharmaceutical company etc.